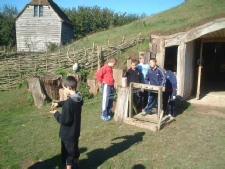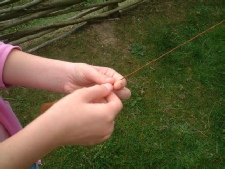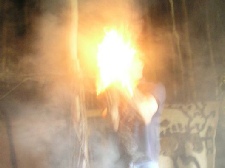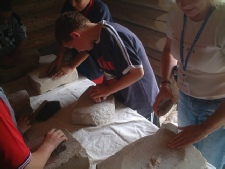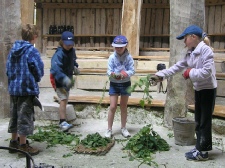 A summer visit will take place between April and October half term. This visit is based in and around our reconstructed buildings and focus on the ancient skills and jobs people would have practiced in the past. During a planning meeting, we will discuss your requirements and design a day based around three main activities. Your visit duration will depend on your transport considerations, typically ranging from 9.30am to 3.30pm. Your class will be divided into three work parties of around ten children and each party will rotate around the three activities.
We can cover specific time periods such as the Stone Age, Iron Age (Celtic), Roman, Saxon, or Viking Periods or alternatively, we can design a day that compares and contrasts two time periods.
Our activities are numerous and each has been carefully designed to be safe, realistic, demanding and rewarding. In our experience, children always rise to a challenge and enjoy hard work, with a purpose.
Two of your three activities will be ATC staff led and will usually be more technically demanding such as blacksmithing, rope making, felt making, and many others – while your third activity will be led by your visiting staff after an introduction by us and demonstration to your children. Each teaching day finishes with a session sitting around a fire in a building – and gives your children a chance to ask the many questions the days work has raised in their minds. Our staff have excellent knowledge and experience of their subjects and this is a great way to wind down after the hustle and bustle of the days tasks.
Safety is paramount to all of us. Every ATC activity is conceived using research, our personal knowledge and skills, tested, risk assessed and practiced before it is offered to a visiting school. This maintains our excellent safety record and allows us to offer activities which are unique to the ATC.