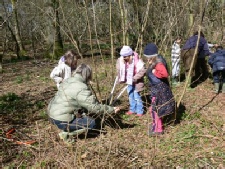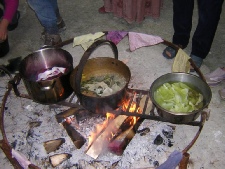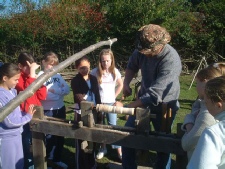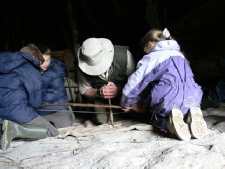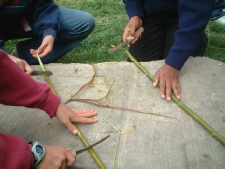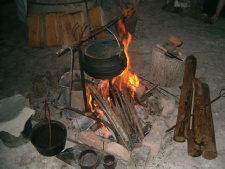 Wintertime at the ATC is our time for fire-making, harvesting timber, preparing the fields for planting, sowing our crops, building fences and hurdle gates. The colder weather makes many of our summer activities unsuitable and we like to keep the children warm with good doses of hard work. The focus of a winter day is placed on the realities of past lives alongside timeless issues of sustainability and seasonality. The ATC in winter is a place where children use sharp tool such as loppers, bow saws and sometimes axes to shape their surroundings and build something semi permanent.
Our winter days can be tailored to a specific time period or can be a useful way of generally introducing the past. We offer two types of winter day, each of them finishing in a building with an open fire and a chance to relax and ask questions.
The Coppice Day.
The Coppice Day is designed for Year 3 children and older.
For schools who have a longer day, the Coppice Day begins in the RSPB reserve of Garston Woods just 5 miles from the ATC and puts your children in touch with materials sourcing and sustainable living. We meet you there and take you on a walk through this ancient woodland to our work area. After a demonstration of ancient tools for harvesting hazel and a safety demonstration for the bow saw and loppers, your children divide into small groups and begin the physical task of coppicing. Having spent the morning in the woods, we all return to the ATC with our gathered wood and have lunch around the fire in the Earthouse. The afternoon's focus is using your coppiced wood to rebuild woven fences and hurdle gates and making fire by friction in the Roundhouse. The Coppice Day is a unique opportunity for your children to experience a working wood and genuinely understand the processes that were so familiar to our ancestors.
The Winter Day.
For schools who have limited time with us, the Winter Days covers some of the tasks our ancestors had to do in the past. The children rotate around three activities of Farming, Fire-making and Fence building. Farming involves breaking the ground with ancient ploughs and ards, fertilizing with wood ash, and sowing seed for our crops. Fire-making explores three methods of fire by friction in the past and children have to gather their own tinder around the site – the aim is to produce a fire that will keep the whole group warm at the end of the day. Fence building lets the children process hazel rods from Garston woods, saw up firewood and stack it for next year and build our lovely hazel fences to manage the movement of our sheep and pigs. The Winter Day is a day of hard work and enjoyment for your children and they will gain an understanding of the effort and time that was required to live in the past.